This Tuesday, 08/02/2016, we at Pictures From The Sky presented at a conference for Massachusetts law enforcement addressing drone(UAS) usage in and around airports and towns.
Some 80-100 Police Chiefs, troopers, detectives and other law enforcement officials were in attendance.  This is not the first time that we have spoken to this size or larger crowds, but the fact that every one in the room had a gun inspired us to do an extra good job.  But seriously, these men and women are committed to public safety and were interested and engaged in the topic and content.
We were joined by presenters from ALPA – the airline pilots association, AMA – The Academy  Of Model Aeronautics and the FAA to cover a variety of issues facing law enforcement and drone usage.  There was also a classified session on laser strikes that we were not allowed to attend.

After comments and introductions by the senior aviation officials at Logan airport, APLA started out and was represented by Bridger Newman and Eric Herman.  Both speakers are senior pilots and technical contributors to many of the UAS aviation standards in place with the FAA today.  These speakers set the tone for the rest of the conference and focused on the explosion of drone technology and it's adoption, as well as what needs to be done to stay ahead of it in the National Airspace.
Next was Andy Agenio, a VP from AMA's district 1 (New England) who spoke passionately about the AMA's members and their respect for safety and protocol FROM THE PERSPECTIVE OF A HOBBYIST.  AMA is a powerhouse community based organization that works very hard to represent and protect the interest of it's  175,000 members.
Then came Pictures From The Sky.   Our task was to present "Safe and legal operation of UAS for commercial operations".  We presented from the perspective of the typical commercial operator that Law Enforcement might encounter and approach.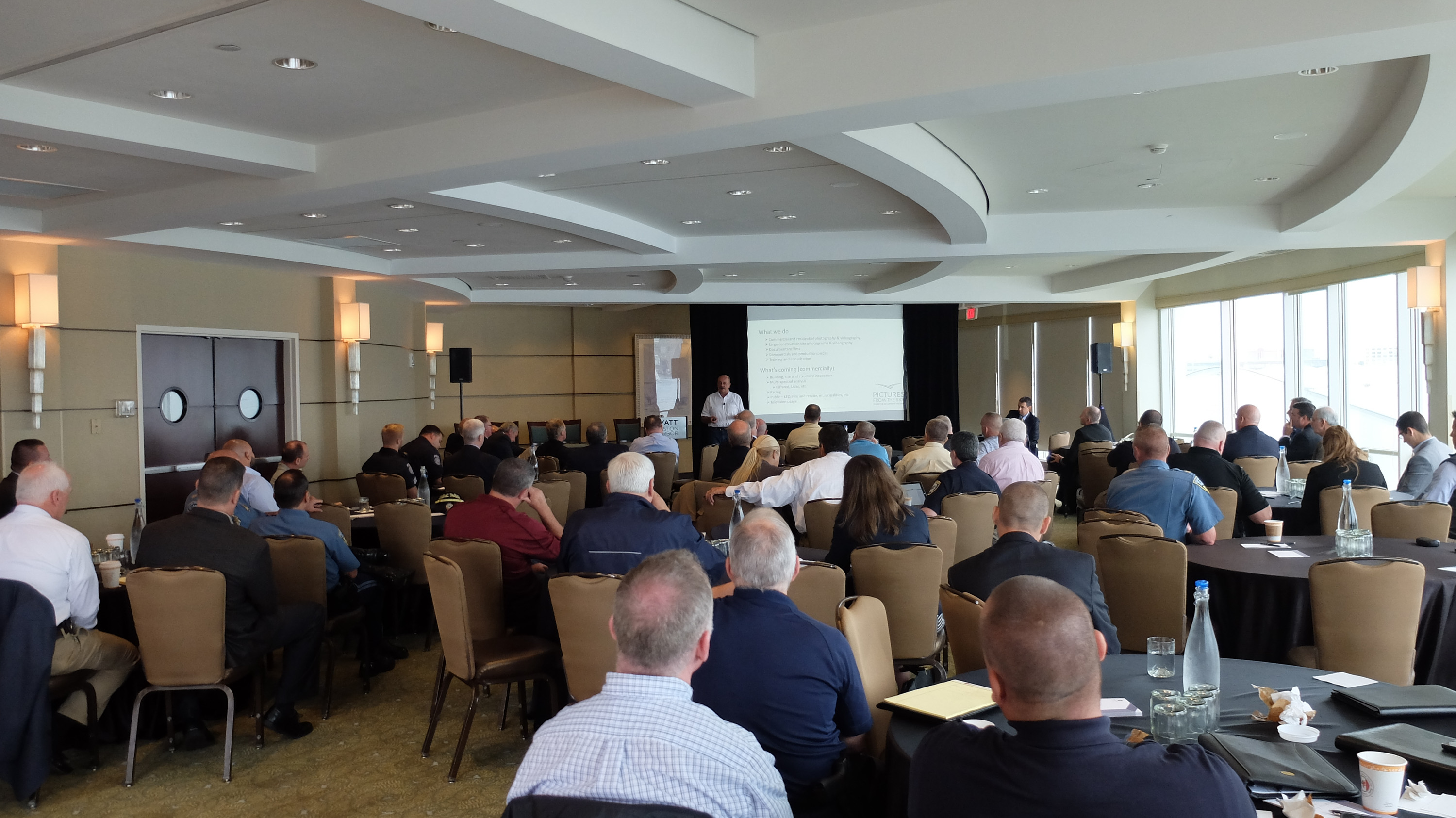 Our goal was to present (Commercial operation) topics related to:
Rules and regulations
Preflight planning
Flight safety and operational procedures
Documents required for legal commercial operation, what they look like and what they contain
General observations about commercial operations by authorized and unauthorized entities.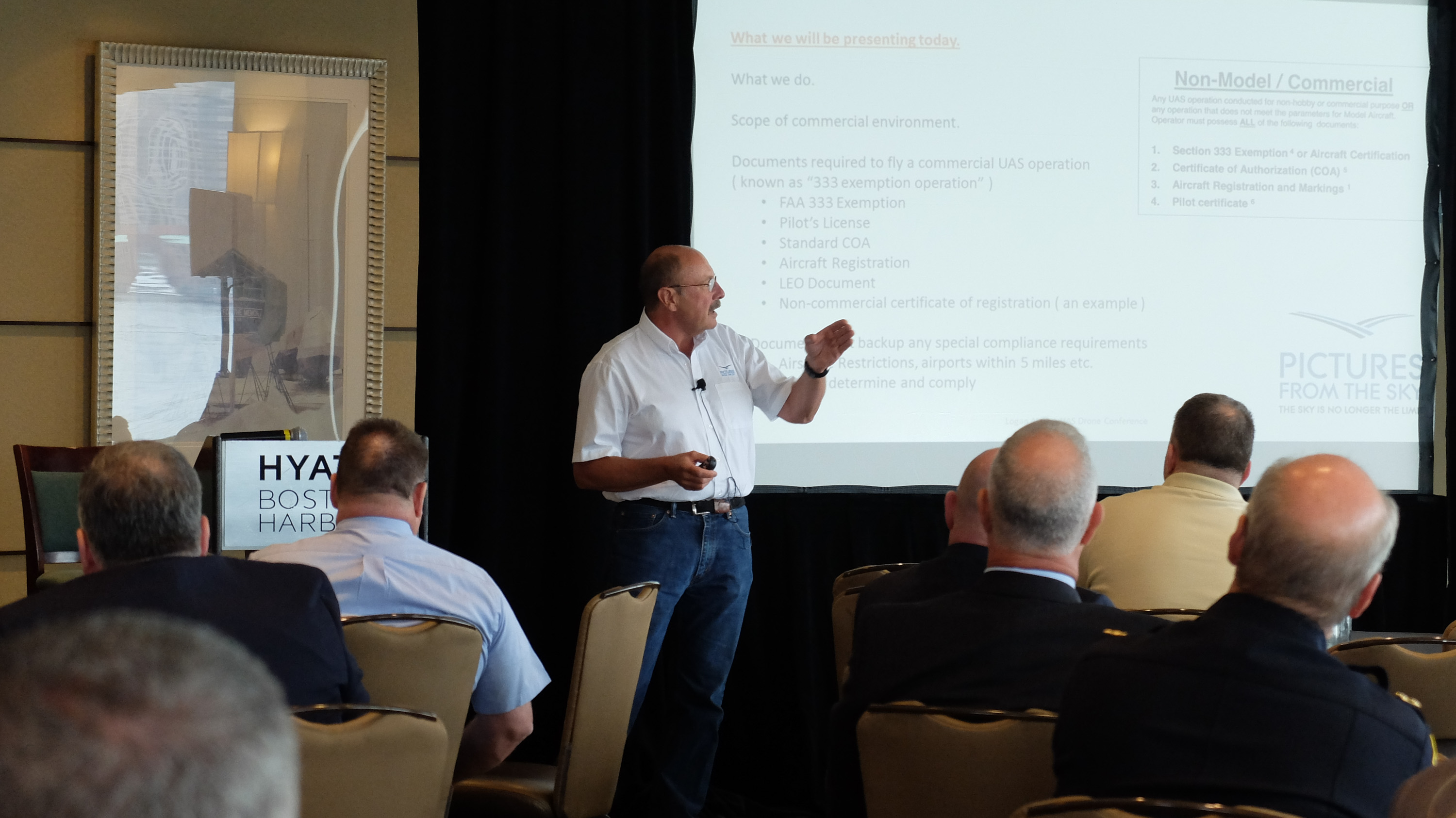 We also reiterated and reinforced the unprecedented explosion of this technology.
Following us came Special Agent Charles Phillips from the FAA.   Charles was one of the most knowledgeable speakers I have seen on the topic, and was kind enough to let us sit in for a while until he needed to step into classified areas.  He discussed Part 107 and other topics that tied in regulatory issues as well as practical/tactical information from Homeland Security.At the end of the day, EVERYONE's focus is on safety.  Almost all levels of LEO recognize that they don't need to be worried so much about hobbyists at AMA sites or 333 exempt commercial entities like us at Pictures From The Sky.  The people that they need to focus on are the folks that operate outside of these two groups. Operators of concern that should be approached include:
Commercial operators that are unaware of, or are disregarding the rules.  This will be especially important as the number of commercial operators increases 500-1000% with Part 107.Commercial operators that accept too much risk to get the shot and get the money.Hobbyists that disregard AMA and FAA rules and fly recklessly.People who use drones for illegal purposes.
Logan has a saying – "If you see something, say something".  It's  great policy.  If you see someone flying a drone recklessly, in an area close to or above people, airports or aircraft, contact the authorities.  There is a chance that these operators need to be reminded of rules and regulations, safety and common sense.  There's also a very slight but real chance that something more nefarious is in play.
Tags:
Aerial Photography
,
Aerial Video
,
Drone Photography
,
Drone photography Boston
,
Drone photography MA.
,
Drone photography North Shore
,
Drone Photography Salem MA
,
FAA 333 Exemption
,
FAA Approved Drone Photography
,
Pictures From the Sky
Categorized in: Technology
---